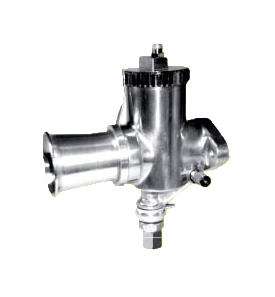 The Amal T3GP1 is currently in production by Amal in 1 3/8″ and 1 1/2″ bore sizes.  The remote mounted Matchbox Float Chamber Type 510 is also available for use with the GP.
We have a Remote Float Mounting Bracket which comes complete with premium grade metalastic rubbers.
Also ask about our Unique to Surreycycles Manifold Adaptor, specifically desgined to enable you to swop your GP over for a Mk1 or Monobloc without any modifications required to your engine.   Suitable for 350 and 500's.
Please call us on 01342 716 120 to place an order.
MODELS
AMAL T3GP1
Available in 1 1/2″ and 1 3/8″ Models.
c/w push on single banjo
These carbarettors are manufactured from all new casting. Offering all the benefits only available from a new carburettor.
SPARES
T3GP1/2, T5GP1/2 and T10GP1/2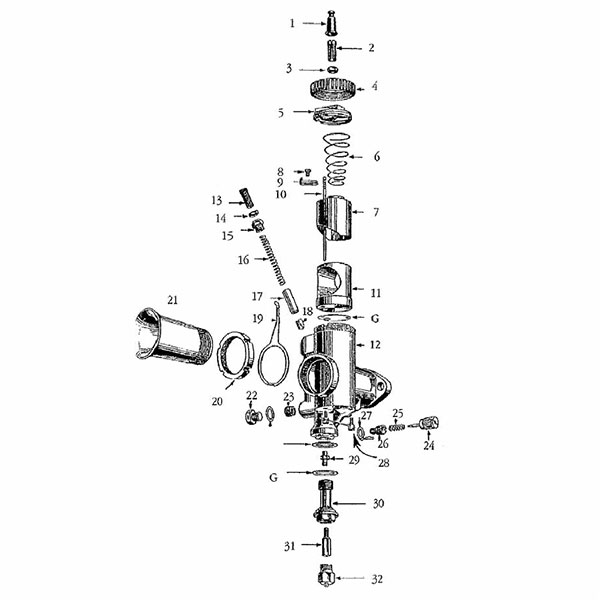 1. Cable Sheath – £6.00
2. Throttle Cable Adjuster – £7.00
3. Throttle Cable Adjuster Nut – £6.00
4. Mixing Chamber Top Retaining Ring – £41.00
5. Mixing Chamber Top – £52.00
6a. Throttle Spring – weak – £13.00
6b. Throttle Spring – std – £7.50
7. Throttle Slide (state cutaway) – £104.00
8. Retainer Clip – £3.50
9. Needle Clip – £3.50
10. Throttle Needle – £16.00
11. Jet Block (not available separately)
12. Body (not available separately)
13-18. Air Valve Kit – £28.50
19-21 RK3GP/6 Velocity Stack Kits – £57.00
22. Air Passage Screwed Sealing Plug – £6.50
23. Air jet – £5.50
24-27. Pilot Screw Kit – £27.00
28. Jet Block Screw – £6.75 each
29. Needle Jet – £8.00
30. Jet Holder – £35.00
31. Main Jet (State Size) – £5.00
32. Jet Holder Cover Nut – £24.00
33. RK3 GP/1 Gasket Set – £6.50
34. Cable Nipple (not shown) – £2.50
35. Banjo 14/249 Screw Connection Single – £20.50
36. Banjo 14/250 Screw Connection Double – £22.50
37. Banjo 14/218 Push-on Connection – £21.50
Banjo 14/419 180 deg – £17.50
38. Blanking Screw Pilot – £3.50